How to Better Mental Health by Improving Home?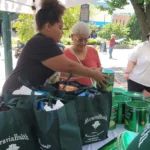 National Food Bank Day in Reading
the Moravia Cares team providing backpacks and supplies to the Harrisburg community
---
The Moravia Cares team are avid supporters of children and their educational efforts. Here is our team partnering with the LOOP (Left Out Organization Program) delivering  needed supplies in Harrisburg, Pennsylvania to area school children and their families at a Splash Party. Held at Jackson Lick Pool, and attended by invitation only, students had a great time swimming, eating and enjoying music.
---
September 18, 2023
September 18, 2023